Naimh Charles dashed over to meet fans at the end of Chelsea's hard-fought win over City on Sunday afternoon    Picture: Morris Thain Chelsea Women's hard-earned 1-0 victory over Manchester City at a sunny Kingsmeadow on Sunday lunchtime tees up a showdown match against Arsenal, under the lights on Friday night. Although it won't
Naimh Charles dashed over to meet fans at the end of Chelsea's hard-fought win over City on Sunday afternoon    Picture: Morris Thain
Chelsea Women's hard-earned 1-0 victory over Manchester City at a sunny Kingsmeadow on Sunday lunchtime tees up a showdown match against Arsenal, under the lights on Friday night.
Although it won't decide the destination of the Women's Super League trophy, it is a crucial match as the Blues look to make their current game in hand count, and try to overhaul their arch-rivals from north London, who could only manage a draw against Man Utd the day before.
There were 3,321 in Kingsmeadow for Sunday's game (with 'Sold Out' signs plastered on the window of the ticket office), and there will be a similar number on Friday night as women's football starts to seriously catch the men's game in terms of watchability and excitement.
The City game proved tense and tight, with Guro Reiten's first-half glancing header the difference between two well-matched sides.
City manager Gareth Taylor said that the gusts which swept across Norbiton during the game had been a factor in how it panned out. "Both teams struggled into the wind," he said, after City had not only played the first half trying to hoof the ball against the breeze, but had the added complication of keeper Ellie Roebuck battling bursts of low winter sun straight into her eyes.
Keepers no longer seem to wear the caps that would surely combat some of the glare, so it could well have been a factor in the 14th minute as Jess Carter – for me the player of the match alongside Erin Cuthbert – looped a high ball straight into City's danger zone where Reiten was able to flick a header just beyond Roebuck's fingertips and into the deepest corner of the net at the Kingston Road end.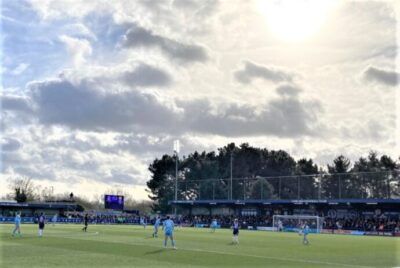 It was 1-0 at half-time, and that remained the score despite a spirited fightback by Taylor's team. "Our pressing was better in the second period, although Chelsea defended really well," he said.
Cuthbert eulogised about the overall "shift from the team", adding: "Guro works so hard in training, so I'm really pleased for her to get a goal."
For Blues manager Emma Hayes, Friday's home tie against the Gunners is the next battle on the horizon. "It feels like you can't drop points anywhere," she said of the title race. "Next Friday is a derby game, a television game, and there'll be a great atmosphere on a night with another packed crowd… and I know Arsenal will give as good as they get."
She said that her team – depleted by injury – had to stay together, to grind out results. "Fran still hasn't fully recovered from Aston Villa and Lauren [James] can really only play 15 or 20 minutes, so every single one of my 14 or 15 players has been absolutely amazing," she said, having huddled the girls together on the pitch in a circle to praise their effort and resilience.
City danger woman Lauren Hemp was largely neutralised by Jess Carter in the first half, and Cuthbert in the second, after she switched wings from left to right when Taylor brought on Julie Blakstad as a sub in the 58th minute.
It could have bamboozled Chelsea, but the home side stuck to their task, adapted and threw bodies on the line to deny City an equaliser in an exhausting and exhaustive display of togetherness and solidarity.
The match was a dress rehearsal for the Conti Cup final, looming in early March, with both sets of fans namechecking the venue, AFC Wimbledon's new stadium, in their chants. City sang: "Wimbledon, Wimbledon, we're the famous Man City and we're going to Wimbledon." Chelsea's ultras countered with: "Que sera sera, whatever will be will be, we're going to Wimbledon, que sera sera."
But crucially Chelsea can now catch Arsenal up after the Gunners stumbled to a draw at home to Man Utd… a match which saw Katie McCabe red-carded, meaning she will miss the London derby.
A win for the Blues would see them climb one point ahead of the Gunners into top spot in the WSL.
Of her rivals Man City, Hayes said: "I always say that if Chelsea weren't around, look how many titles Manchester City would have won! They came into women's football, but I don't think they factored Chelsea into their equation. But they're still a top, top team with top young players. They will get better and better every year, but I think we have the psychological edge."
Chelsea's men scraped an FA Cup win against Plymouth Argyle on Saturday, although the Pilgrims took the Blues to extra time before the 2-1 win was secured. Goalie Kepa was the hero on the day, saving a penalty to deny the visitors a 4th Round upset