Clutching an ice pack to her left hip as she was assisted from the pitch after sustaining an injury scoring the third goal in a magnificent hat-trick for Chelsea, Aussie striker Sam Kerr was cheered every step of the way by the fans who had finally been readmitted to Kingsmeadow. Kerr's heroics ensured a 3-2
Clutching an ice pack to her left hip as she was assisted from the pitch after sustaining an injury scoring the third goal in a magnificent hat-trick for Chelsea, Aussie striker Sam Kerr was cheered every step of the way by the fans who had finally been readmitted to Kingsmeadow.
Kerr's heroics ensured a 3-2 victory over West Ham that kept up the Blues' title challenge in the Women's Super League, and set a new league record for consecutive home wins.

In a Sunday lunchtime match played (during the second half) in blindingly bright low winter sun, Chelsea seemed to cruising to a comfortable 3-1 win, until the Irons narrowed the lead with eight minutes remaining – a perfect ending for the neutrals, as manager Emma Hayes said afterwards, but a nervy time for her and the 350 or so supporters, mainly clustered on the terracing at the ground's former Chemflow end.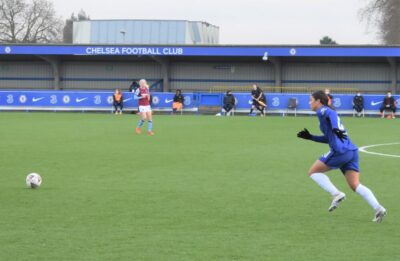 The hardy souls who cheered Chelsea on were rewarded with a fine display from the Aussie forward, and some excellent back-up play by the midfield and her fellow strikers.
The Blues began in a 4-3-3 formation, switching to 4-4-2 for the second half as Hayes made a series of substitutions with half an eye on the looming European tie in Portugal next week.
Kerr began up front alongside Beth England and the rejuvenated Fran Kirby, while Pernille Harder, Ji So-Yun (making her 100th league appearance for Chelsea – the most by any non-Brit in WSL history) and Mel Leupolz were close behind in midfield.
With a quarter of an hour gone, Harder sent Kirby scurrying down the right wing, from where the England forward sent a perfect cross over for Kerr to slide home with her outstretched left boot, beating Irons' keeper Mackenzie Arnold.
From the start, however, it was clear that West Ham – managerless with Billy Stewart standing in as interim coach – were going to give Chelsea a hard time. They pressed high up the pitch with a hunger and grit that threatened to catch the Blues out several times.
A rare loose pass from Maren Mjelde to her captain, Magda Ericsson, was read and intercepted by Rachel Daly, setting the West Ham striker off at pace to confront Ann-Katrin Berger, one on one. But Berger stood tall, and managed to save the day with a firm, one-handed deflection.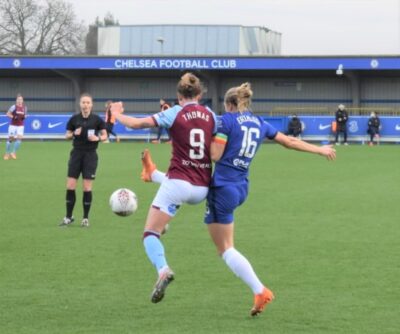 Only repeated frantic backtracking by Kirby, Leupolz and Harder prevented the defensive line from being overrun on several occasions, as an unfamiliar back four combination of Maria Thorisdottir on the right, Mjelde and Ericsson in the centre and Jonna Andersson on the left, lined up in front of Berger.
The Hammers restricted Chelsea to that single goal in an even first half – a half punctuated by the extraordinary sight of Thorisdottir chasing back with such pace to thwart a West Ham attack that she ran full-pelt into the advertising hoardings at the Kingston Road stand, and finished all ends up, with just a pair of Scandinavian pins on view.
After the interval the bright sun was right behind West Ham, and Chelsea's players – especially Berger – were having to shield their eyes from the low intensity of it.
That may have been a factor in the Irons' deserved leveller, two minutes after the restart. Adriana Leon showed a clean pair of heels down the left, cut inside the Chelsea defence and provided a pass on a plate for Daly's simple tap-in.
Hayes may have been dismayed by the ease of the equaliser, but she was equally delighted with the response. Eight minutes later, Harder crossed for Kerr to slam home her second.
Her third goal came on 69 minutes. Kirby exchanged a deft one-two with Kerr, who skipped forward to net her hat-trick, injuring her left hip in the process after a post-goal collision with defender Cecilie Redisch. The Australian striker, who was loudly cheered by the Chelsea fans on the south terracing, was helped off by medical staff and took no further part in proceedings.
"I was just crushed on the side of my hip," said Kerr afterwards. "Every day in training we score goals like this, and it's pretty easy when it's Fran Kirby playing your in!"
Kerr's replacement Erin Cuthbert had by now joined the fray (see pic below), bringing her unmistakable style to Chelsea's attack.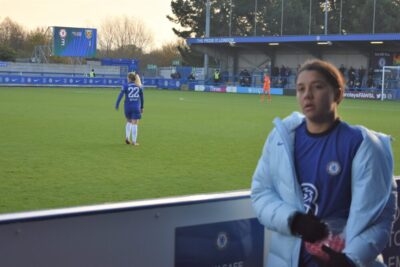 But there was room for a final twist as West Ham, themselves bolstered by late substitutions, clawed another goal back after Alisha Lehmann, on for forward Martha Thomas, sent a ball into the Chelsea area, destined for her team-mate Emily Van Egmond, only for the unlucky Ericsson to briefly take her eye off it and mis-head into her own net.
Hayes was, of course, delighted that Kerr had scored three goals… but paid a special tribute to her team-mates for their crucial supporting roles. "In terms of the hat-trick I also want to talk about the amount of running that the players around her are doing, in particular the work that Beth England and Fran Kirby did in making selfless decisions to create space," said the manager.
"Sam is a great team player and often puts the team ahead of herself. We've been working hard with her behind the scenes to make sure she recognises that there are moments to be selfish and to be selfless. And the same goes for Fran and Beth."
For West Ham, interim coach Billy Stewart (until recently the club's goalkeeping trainer) did an excellent job, making a series of changes to predecessor Matt Beard's starting line-up and strengthening defence.
The win means Chelsea have set a new record in the WSL of a dozen home wins on the spin.
"It's not easy to remain undefeated, and have that home record," agreed Hayes. "You have to be at the very top of your game, so to do it for as long as we have done is real testimony to the work that goes on by everybody here.
"You've seen from today's game that nothing in this league is going to be easy – I don't know why people think it is. It's like the men's Premier League, there's not a lot to separate teams, so I'm over the moon for the girls, but also for the fans."
Although there were only around 400 in the stadium – socially distanced and faithfully observing all the safety protocols – they felt, said Hayes, "like there were 20,000 here today".
Next up for Chelsea, the Champions League first leg against Benfica in Portugal on Wednesday night.