Chelsea Women's start in this season's Champions League could hardly have been better. After a 5-0 victory in Portugal against Benfica last week, the second leg added another three goals with no reply… and the Blues are comfortably through to the last 16 of the one competition which manager Emma Hayes needs to complete her
Chelsea Women's start in this season's Champions League could hardly have been better.
After a 5-0 victory in Portugal against Benfica last week, the second leg added another three goals with no reply… and the Blues are comfortably through to the last 16 of the one competition which manager Emma Hayes needs to complete her trophy collection.
In the end, Wednesday night's 3-0 win was a formality, even with a dramatically changed line-up which gave starts to players who – because of Chelsea's sheer quality and squad depth – struggle to get match time.
Jess Carter did well down the left wing, working closely with Guro Reiten to supply forwards Sam Kerr and Beth England.
England was first to score, after 28 minutes of stout Portuguese defending. Carter and Reiten (pictured below, sandwiching opponent Pauleta) combined to tee up the blonde striker, whose cross/shot sailed through the air and bamboozled Benfica keeper Dani Neuhaus – the most vocal player through the entire game, barking out instructions at top volume in the cold, damp and echoey Kingsmeadow.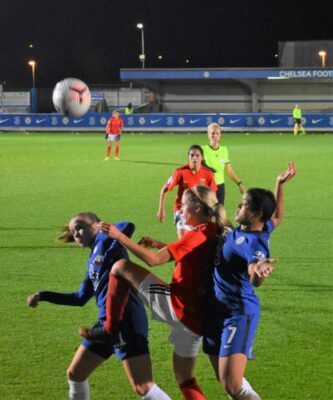 The raising of London to Tier 3 just 19 hours earlier meant that the 1,000 fans who had booked tickets found their reservations cancelled under the stricter Covid rules… so the boxes of programmes which had been printed ahead of Wednesday sat unsold in the stadium.
It meant that the atmosphere, particularly in the second half, felt rather flat. Towards the end, Hayes was heard bellowing to all her players: "Keep the pace up!"
Benfica rarely even entered Chelsea's half of the pitch, with the first vague attempt on Carly Telford's goal coming in the 70th minute when Ana Rita Seica managed a weak header which ended in the keeper's arms.
There were seven extra minutes to be played in the first half after Finnish ref Lina Lehtovaara added time for a nasty collision between Neuhaus and her own right back Catarina Amado. Amado was clattered to the ground as Neuhaus advanced to punch clear an Erin Cuthbert corner in the 15th minute. She was stretchered off, and replaced by Francisca Nazareth.
So, 1-0 at halftime. But 20 minutes after the restart, in-form Kerr – one on one with the Benfica netminder – coolly slotted home to double that after Reiten supplied a dream of a through ball.
A scruffy, scuffed goal in the first minute of five extra at the very end gave England her second, and Chelsea their third. Sub Fran Kirby provided the cross.
"I'm happy to come out of this with a clean sheet and no yellow cards," said Hayes afterwards during her post-match Zoom conference with the press. Benfica picked up two cautions. Hayes was delighted with the performances of her players, and singled out former Liverpool player Niamh Charles for special praise.
Charles has come on in leaps and bounds in the last couple of months, growing in confidence and stature. She's a strong, brave player – tall and elegant, focused and adaptable. Although she began up front on the right, when second-half substitutions saw the introduction of Pernille Harder, Kirby and Drew Spence to the Chelsea attack, she dropped to right wing back, seizing the new role with confidence and style.
Hayes mentioned Charles and Jessie Fleming in particular, but she must also have been delighted by Carter's assured play. Even on the odd occasion when the Chelsea left back was dispossessed, or misplaced a pass, her recovery play and determination (sometimes earning a word from the ref for its vigour) also impressed.
"In most [other] teams, Niamh and Jessie would be starting week in, week out," said Hayes, adding that there was so much quality in Chelsea at the moment that it was simply impossible to give everybody the starts that their hard work on the training ground deserved.
"For me, I thought Naimh was the player of the match; she dealt with her one v ones really well going forward, she was tenacious defensively. She was excellent. I think she can play right back… but she needs time. Wingers moving to right back do mental things! They don't think defending first, they think attacking first, which is marvellous when she's got the ball, but while she's not got the ball she's got to learn if she's going to be picked in that area," said Hayes.
"I think Naimh could do anything she wants to do," she added. "You ask Phil Neville what he thinks of that kid; brilliant learner, she absorbs everything, she takes things in her stride, she cares about the way she represents herself every day… what a dream to coach."
Hayes believes Charles was the one key player Chelsea were lacking last season, and admits she was overjoyed to sign her from Liverpool after the Reds were relegated. "I felt we needed and out-and-out wide player," she said. "She always caused us problems [when she played against Chelsea], so I knew she was the player I wanted, and I was over the moon to sign her. I think she will be a great fixture for Chelsea, and England, in future."
Charles is still only 21, and may have done enough in this impressive showing against Benfica to ensure she gets a few more starts before this season is out.
Carter's duels with the sub Nazareth were one of the most entertaining aspects of a first half that Chelsea dominated, even if their opponents' five-at-the-back formation stifled so many attacking attempts. It was scarcely a surprise that the change was made after shipping five goals at home last week, and the new strategy was spelt out by the deafening touchline coaching of manager Luis Oliveira, which must have caused a few Norbiton residents to look out from their net curtains to see what the din was.
The second half was more of the same, with Magda Eriksson coming on as sub for first-half captain Millie Bright, and the constant possession and attacking build-up continuing.
"I have to build Chelsea for the future," added Hayes when asked to justify the slew of changes which gave so many squad players a chance to shine in European competition at Kingsmeadow.
Spence's arrival on the pitch – her first appearance in an age – was greeted by spontaneous supportive applause by her fellow players, compensating for the lack of fans who would have given her such a warm hand had they been allowed in. It was the 200th appearance of this long-serving member of Chelsea Women FC, and it was a shame that there were not supporters in the stadium to witness it.
Chelsea's 3-0 win meant that the club has now scored in the last 43 matches. Something Tottenham will be only too aware of when they pitch up at Kingsmeadow on Sunday for the London derby.