Chelsea's new sponsored shorts didn't bring them luck as unfancied Brighton pulled off one of the shock results of the season on Sunday, ending the Blues' record-breaking unbeaten run at Kingsmeadow. The Seagulls fought for every ball to achieve a deserved 2-1 victory at a ground that had become a fortress for Chelsea after 33
Chelsea's new sponsored shorts didn't bring them luck as unfancied Brighton pulled off one of the shock results of the season on Sunday, ending the Blues' record-breaking unbeaten run at Kingsmeadow.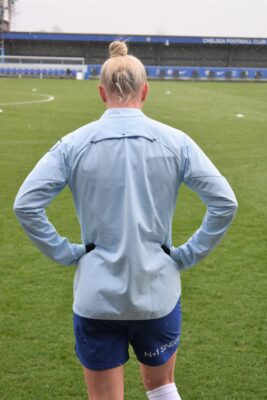 The Seagulls fought for every ball to achieve a deserved 2-1 victory at a ground that had become a fortress for Chelsea after 33 FA Women's Super League matches without defeat, including 14 wins on the spin at home – both records.
While all winning streaks must end eventually, this result was all the more astonishing as Brighton had lost 3-0 to rock-bottom Bristol City in their last game.
That, said Blues manager Emma Hayes, may have held the key to this result. "Brighton have been humiliated in their last two games, and this was their reaction to that," she said, adding – with an eye towards the midweek clash with her old team Arsenal – that "we have to bounce back quickly".
While she refused to pick out any individuals for criticism, she said of her players as a whole: "As a team it wasn't good enough from us today, on any level, and everybody within the dressing room knows that."
Chelsea's players – giving a first outing to shorts sponsored by a bank – finished flummoxed, deflated and bewildered by the outcome, though Hayes did her best to shoulder responsibility.
With the Arsenal match in mind (a game which – on paper – looked far harder than a seemingly routine fixture against Brighton, who had never beaten Chelsea in the WSL), Hayes seized the opportunity to rest several key players.
Brighton coach Hope Powell, who couldn't contain her glee at the end after achieving one of the greatest upsets of her managerial career, admitted that she had been given a huge boost when she saw the Chelsea teamsheet an hour before kick-off at a bitterly cold Kingsmeadow, with small snowflakes swirling in the air.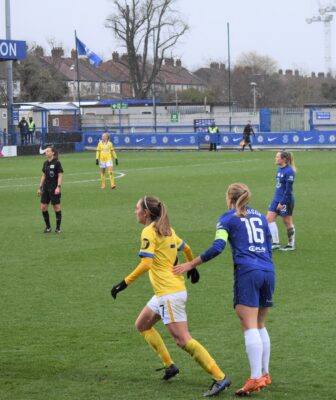 And, it could be said, snowflakes were playing on the pitch! Chelsea were uncharacteristically meek from kick-off, and were lulled into an even meeker state when Sam Kerr put the Blues ahead after just five minutes, heading home an Erin Cuthbert corner off the underside of the bar, evading Brighton keeper Megan Walsh.
But if Chelsea expected the floodgates to open and thought they'd secure another hefty victory and clean sheet, they were given a rapid reality check just three minutes later.
Megan Connolly fired in two corner kicks in quick succession at the Kingston Road end. The second was smartly met by Aileen Whelan, whose bullet header flew past Telford to settle in the back of the net.
The Blues pressed and pressed and – as ever – enjoyed the lionesses' share of possession. But the longer the game went on and the more Brighton denied time and space to their supposed betters from Chelsea, the more it looked like an upset was on the cards.
Chelsea's shooting chances were wayward and lukewarm in intensity. Guro Reiten's shot was comfortably held in the 10th minutes, Sam Kerr's was similarly nullified in the 14th, and Reiten saw another opening squandered two minutes later, shooting over the bar.
Even Beth England couldn't find an angle to evade Walsh, and while the Brighton keeper did well, she wasn't really tested enough. Sophie Ingle also had a header cleared off the line.
Hope Powell's side proved unrelenting, snapping at Chelsea's heels, not allowing them to settle, and aggressively pushing the Blues off the ball, keeping just the right side of the laws of the game.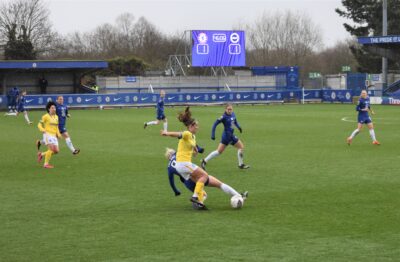 At halftime it was still 1-1, so Chelsea knew they were in for a tough ride. But there was no panicking in the ranks, and the assumption still hung in the cold afternoon air that the Blues would bring in players left on the bench to finish the job.
Hayes gave the team a generous 10 minutes in the second half before making a dramatic three-player substitution to shake things up.
While the manager wouldn't identify individuals who were below par in the first 45 minutes, the trio that made way were Reiten, England and Jessie Fleming – a young player still learning her trade and who needed to be protected from Brighton's no-nonsense midfielders.
On came Fran Kirby, Ji So-Yun and Pernille Harder… all players Hayes had hoped to keep in reserve for midweek.
It did make a difference, but Brighton kept up the pressure, even unleashing another secret weapon, Maya Le Tissier's superb long throw-ins, despite having no run-up to speak of against the short wall of the Kingsmeadow main stand.
The best chance of a Chelsea winner came in the 76th minute as Jonna Andersson, industrious down the left and one of the few Blues players to emerge with credit from the game, fed the ball to Harder. But her flick struck the post and was collected by Walsh.
Yet if that close shave pointed to an imminent Chelsea winner, the wind was taken out of their sails two minutes later as a Brighton corner from Connolly whipped into the net past the despairing Telford. The keeper should simply not have been beaten in that fashion.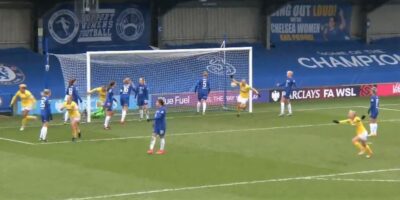 The home defence may have been slightly disorientated by Powell's decision, after the corner had been won but before it was taken, to take off Lee Geum-Min and put on Rianna Jarrett. It is unusual for a team to make a switch at such a moment, but Powell's half-smile when asked about it at the post-match press conference told its own story.
That goal teed up a frantic all-out assault on the Brighton goal as Chelsea fought to preserve their record run. But the Seagulls stuck to their task, maintained two solid, sturdy lines of defence, and shut down any openings.
The four minutes of stoppage time at the very end seemed to go on for a quarter of an hour, with the Blues coming closer and closer to levelling. But when Cristinana Hattersley blew the final whistle, the travelling contingent in the stand, on the bench and on the pitch erupted into such a frenzy of celebration you'd have thought they'd won the title.
Chelsea's players were downtrodden but gracious. Brighton, to put this in context, hadn't won since November. "We beat the best team in the league," said an overjoyed Powell, her post-match press conference peppered with distant whoops of joy from the away dressing room.
"This was a big win for us today. Obviously we're delighted. We knew that Chelsea would have more possession of the ball, but all runs have to end some time… and I'm really pleased it was us!
"We didn't have a particularly good week at Bristol. We were pretty disappointed in ourselves, and the girls have worked really, really hard this week and we knew that hard work would pay off."
She said that her game plan for Brighton had been simple: a determination, after last week's defeat, not to lose.
"It was about us being organised and disciplined. Chelsea are top of the league; they're a team with world-class talent, and sometimes you need a bit of luck. I'll take all the luck I can get!"
The aim was to stifle Chelsea as much as possible, she said, adding that she had brought in Megan Walsh as her keeper as she was "more of a reaction goalkeeper", but insisted that there wasn't a lot between Walsh and Cicilie Fiskerstrand.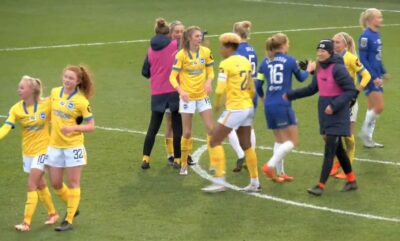 "We seem to do better when we're the underdog," Powell said, adding that she had received a boost when the teamsheet arrived, showing Harder, Kirby and Ji on the bench… and Berger and Millie Bright nowhere to be seen.
Did Chelsea pick an understrength side? "They're all internationals, they're all world-class. We set out to deny them space in the middle and stifle them as much as possible; we knew it would go out wide.
"We spent most of the game in our own half, and we knew it would be about our defending today. That was the gameplan. My words yesterday morning were: 'We're not going to get beaten!'"
She said that she didn't think the dropping of some of Chelsea's star players was disrespectful towards her team. "I said it gives us a better chance than I thought we might have had, but I don't think it was disrespectful. The league is a bit unpredictable. Everyone thought we'd beat Bristol and they beat us 3-0, and I don't think anyone expected us to beat Chelsea today; I think the odds were totally against us."
Emma Hayes said that of course she was disappointed to lose, but said it was a reminder that if you're not "on it" in this league, it can lead to surprise results.
"I thought our intention, our intensity, our aggression was really poor today. When you play in these games you have to take the game to your opponent and work for space and chances, and to regain the ball… and I don't think we did that very well at all.
"We've given away two set-piece goals, which I don't think we've done in all my [nine years] here; extremely poor goals. They've had three shots and two goals, we've had 30 shots and one goal."
She said that Chelsea's subs had "brought the right aggression" to the game. "Well done to Brighton and to Hope. It serves as a reminder to all of us that no one is invincible. You have to find consistent levels all the time."
Although she refused to talk about individual mistakes, Hayes was clearly unhappy about Brighton's inswinging corner that beat Telford, who was making a rare start as Ann-Katrin Berger watched from the stand, saved for the midweek clash with the Gunners.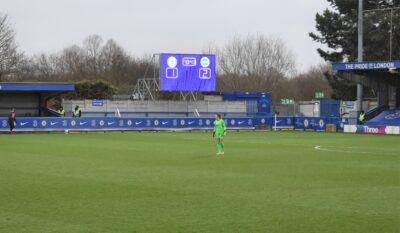 In truth it was a disappointing match for Blues captain Magda Eriksson, who could have marshalled her defence better to deal with Connolly's corner in the eighth minute that gave Whelan the Brighton equaliser.
"It's a team game. I thought we were a little out of sorts today. You have to be humble going into games, and if you don't do the basics and the fundamentals well enough, then any team can turn you over.
"I'm the manager; I pick the team. If the team loses I take responsibility for the loss. I trust my players. I like to think the number of playing opportunities they've been given reflects that.
"I don't think the time is right to pull apart that decision because then it means I separate the dressing room. Everyone feels emotional after a defeat because we don't get them that often. When they come you have to be calm about it and put in place the right things to rectify it.
"We've had a lot of good days, a lot of winning days. And this is a bad result, but it's not the end of the world. I am proud of the record, and you have to get beaten at some point… and with losses comes learning. We don't lose that often!"
Of course new-look shorts can't be 'unlucky', but fate did play a small part. Magda Eriksson lost the toss at the start, allowing Brighton captain Victoria Williams to switch ends, making Chelsea play towards the former Chemflow terrace in the first half.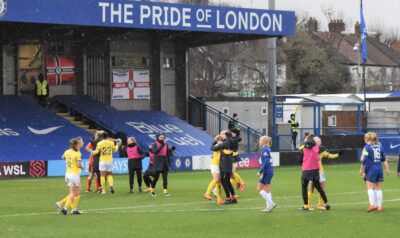 That meant that the biting north wind, which picked up and became increasingly wintry as the game progressed, was even worse in the second half, when the Blues were playing straight into it.
Tactics? Fine margins? Luck? Chelsea did hit the woodwork three times. All factors played a part, but – when it was said and done – Brighton were deserving victors.
Chelsea can still take immense pride in setting an unbeaten league record dating back two years. It will take a long while for another team to better that.