The TV monitor shows Reece James's pain as he limps off after half an hour in a frustrating draw against Brighton    Pics: Trisha Morin Chelsea tried to time-waste their way to victory against Brighton on Wednesday night… and failed. A stoppage-time equaliser meant that any prospect of chasing down leaders Man City after
The TV monitor shows Reece James's pain as he limps off after half an hour in a frustrating draw against Brighton    Pics: Trisha Morin
Chelsea tried to time-waste their way to victory against Brighton on Wednesday night… and failed.
A stoppage-time equaliser meant that any prospect of chasing down leaders Man City after Liverpool's stumble against Leicester the night before disappeared when sub Danny Welbeck, of all people, headed home, levelling Romelu Lukaku's first-half goal.
The Blues were 12-1 outsiders for the title ahead of this clash at Stamford Bridge. Now those odds look generous, and if Liverpool (who visit SW6 on Sunday) manage to get a point as well, they may simply put the trophy on the train to Manchester.
This was a full-blooded, fiesty, all-action encounter between an Albion side who have been struggling to score, and a Chelsea team clinging to what they have in the face of injuries and Covid.
Reece James limped gingerly off with a strained right hamstring before half an hour had elapsed. He had been switched to the left wing to try to keep up with former Blue trainee Tariq Lamptey – possibly the fastest footballer in the Premier League. Marcos Alonso proved a disappointing replacement.
Thomas Tuchel had praised his counterpart, Graham Potter, ahead of the game, and Potter lived up to the billing. Brighton mimicked Chelsea, turning defence into counterattack at every opportunity, and restricting the Blues to hopeful punts and optimistic efforts. Edouard Mendy was the busier of the keepers in the first half, which said everything.
And yet the Blues went into the break 1-0 up, thanks to a Mason Mount corner in the 28th minute which was nodded home by Lukaku.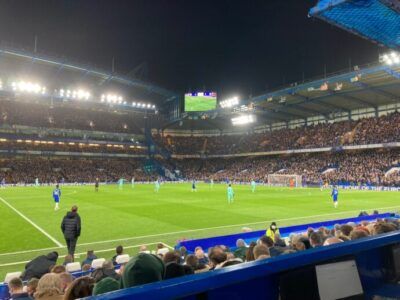 As the second half wound down, and a clinching goal for Chelsea looked less and less likely, the Blues – aided by the home fans – tried to wind down the clock. Mount took an age to take corners, everyone dillied and dallied over throw-ins, and when Christian Pulisic was forced to welly the ball into the crowd with five minutes remaining, he bellowed 'Keep it!' at the supporters.
They dutifully obeyed, and – to Brighton's fury and ref Mike Dean's bemusement (holding his watch until play could resume) – they began flinging the ball to each other, rather than returning it to Marc Cucurella, eager to take a swift throw-in and resume the quest for an equaliser.
Needless to say, delay seldom pays. With a minute gone of the four allowed for stoppages, the ball was floated into the Chelsea area where sub Welbeck rose and headed past Mendy.
Tuchel was resigned, rather than bitter. He's already expressed that bitterness about fixture congestion and Covid intraction in every interview he's given in December. Losing James in the same week that it was revealed Ben Chilwell will miss the rest of the season following knee surgery was devastating as the side tries to gear itself up to face Liverpool.
"It's very frustrating and very disappointing because we had enough big chances," he said. "Another two changes because of injury. The players are completely exhausted and it is the same every match day. Horrible decisions not even checked." Tuchel was referring to a penalty shout after Pulisic fell in the area, but Mike Dean wasn't interested, and didn't refer it to VAR.
"We have two injuries again. That's the point, nothing else. Hamstring injury for Reece James. No need to look ahead to Liverpool – we can try to find players who can play. We have no more wing backs and everyone injured. We need to digest this and not talk about the next game," added Tuchel.
"Our players are injured. I told you what would happen weeks ago. Same thoughts, I told you. Sure we are tired, if you had been in bed for 10 days and played Premier League matches after that, you would be tired."
The image of James being helped off the pitch by trainers was a sobering one. His injury will be assessed, but with only half-fit players being forced to play spells in this busy period, the frustration is set to grow. A two-legged League Cup semi and a 3rd Round FA Cup tie are being added to the mix of existing fixtures in January. The youth team is being put on standby!