"This is the new norm," said Emma Hayes. "We've reached the point when selling out Wembley is no longer just a pipe dream." Hayes, talking ahead of Chelsea's Sunday FA Cup final against Manchester United, said 10 years of championing women's football had finally paid off – a 90,000 crowd to see the Blues fifth
"This is the new norm," said Emma Hayes. "We've reached the point when selling out Wembley is no longer just a pipe dream."
Hayes, talking ahead of Chelsea's Sunday FA Cup final against Manchester United, said 10 years of championing women's football had finally paid off – a 90,000 crowd to see the Blues fifth FA Cup challenge and the Red Devil's first.
"For me, as a women's football fan, it means everything. I always knew that that day wasn't far away."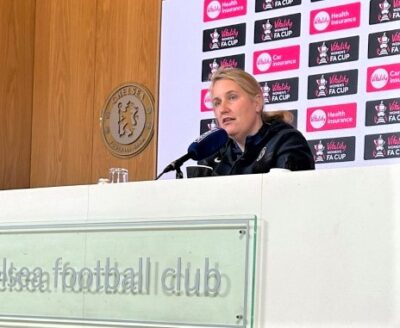 However the Chelsea manager, energised by Bourbon biscuits which she shared with your reporter Jane Grove, pictured, wasn't resting on her laurels even with her team's trophy cabinet stuffed full of silverware.
"Previous success is not indicative of future success. We are playing an outstanding team who have led the way in the league this year and are deserving to be in the FA Cup final. All I can say is we are really looking forward to it."
Hayes said since the Champions League semi-final defeat against Barcelona in April, where Chelsea had put in a battling performance in the second leg in front of a huge hostile crowd in the Nou Camp, the squad had been playing their best football – eight different players netting in the last two WSL games alone.
"The team has needed everybody to chip in. I think there has been a huge reliance particularly on Sam [Kerr – today voted the Football Writers' Association Women's Footballer of the Year award for the second season in a row], maybe Guro [Reiten] with her assists, but everyone else chipping in is what I think the team has needed at this stage of the season.
"It is fair to say that the entire squad is at their best level. For that reason it's a tricky decision to pick a team.
"I think it will be a fantastic football match. I'm sure it will be a fantastic football match.
"Who shows up [performance-wise] on Sunday, we won't know until kick off."